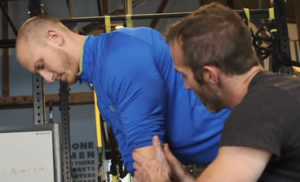 You've already shown that you're the kind of coach who does whatever it takes to stay at the top of the field. (Let's face it: most personal trainers are not reading this page right now.)
I know you care not just about your career and education, but also about your clients. You wouldn't be in this field otherwise.
We all want to do our best, but in my experience most coaches have an uncomfortable knowledge gap when it comes to conditioning. It's time to fix that.
In the BioForce Conditioning Certification Course, I'll give you everything you need to know in order to feel 100% confident in your own ability to write and coach winning conditioning programs.
Think about what this would mean for you and your business:
Work with athletes? They'll begin performing at their highest level, able to go longer and harder than ever before—and hardly able to believe it.
Work with general population clients? They'll actually look forward to their cardio sessions and start being more consistent with their training, in and out of the gym. Plus, they'll be better protected from cardiovascular disease and live a better life because of it.
Imagine what it would feel like to become the go-to expert in your area and attract new high-level clients.
Imagine what it would feel like to get reliably better results and retain your current clients for longer.
Imagine being able to affect people on a deep level and literally transform their life—all while growing your business and reputation.
It's all possible. And it could be your next step.
If you're just starting out in this industry, I encourage you to pass on the BioForce Conditioning Certification for now and instead start building more experience in the trenches. I'll be here for to help when you're ready.
But if you've been in this industry for while, you owe it to yourself and your clients to continue your education and learn everything you can about conditioning.
I'm ready to teach you. But the next step is yours.

Joel Jamieson
The BioForce Conditioning Certification is only open to new students twice per year. Join the free Insider's List below to save $200 on the certification and get the chance to register early.